the BIG "W's" are here!
You've got questions, and we've got answers! Check out the What, Where, When and Why below, and you'll be ready for a race unlike any other!
Don't forget! Set up your fundraising pages or check on your progress here. All participants that raise $100 or more earn a FREE "Love, Kara Tee" AND gift card to Run Republic. That's a $70 value to thank you for all your support!
WHAT
What to bring?
All the gear you could possibly want to run around a half mile track for hours & hours & hours. Seriously… You can set up your gear approximately 5ft from the race track. Super easy access to anything you may want to eat, wear, drink, whatever, to get you through your desired distance/time. HOWEVER, DO NOT crowd the Start/Finish line area as we need ample room for timing equipment & athletic trainers, support staff, etc.
Head lamps & flash lights. The course will not be lit up. Bring your batteries, lights, and eyeballs.
Camping gear. You can camp alongside the track.
Cold & WET weather gear. Weather forecast shows NO RAIN (high of 68 low of 43 Fahrenheit) but who knows what mother nature will do! Be prepared for the elements. I suggest gloves, beanies, warm tights, water proof jacket, couple pairs of shoes and socks, anti chafe products. Most importantly, determination and belief. You can do this despite any weather conditions.
Nutrition. Bring your own nutrition but know that we will provide water, picklejuice, electrolyte hydration, pretzels, fruit, top ramen, cup of noodle, coffee, hot chocolate, hot water (bring your own hot & cold cups), peanut butter, bread, tortillas, cheese, honey, mustard, M&Ms, gummy bears, quesadillas, etc. Not all of the listed items will be available at all times, with the exception of water. We promise to have water for the entire race. However, you need to provide your own bottles, hydration bladders, etc.
WHERE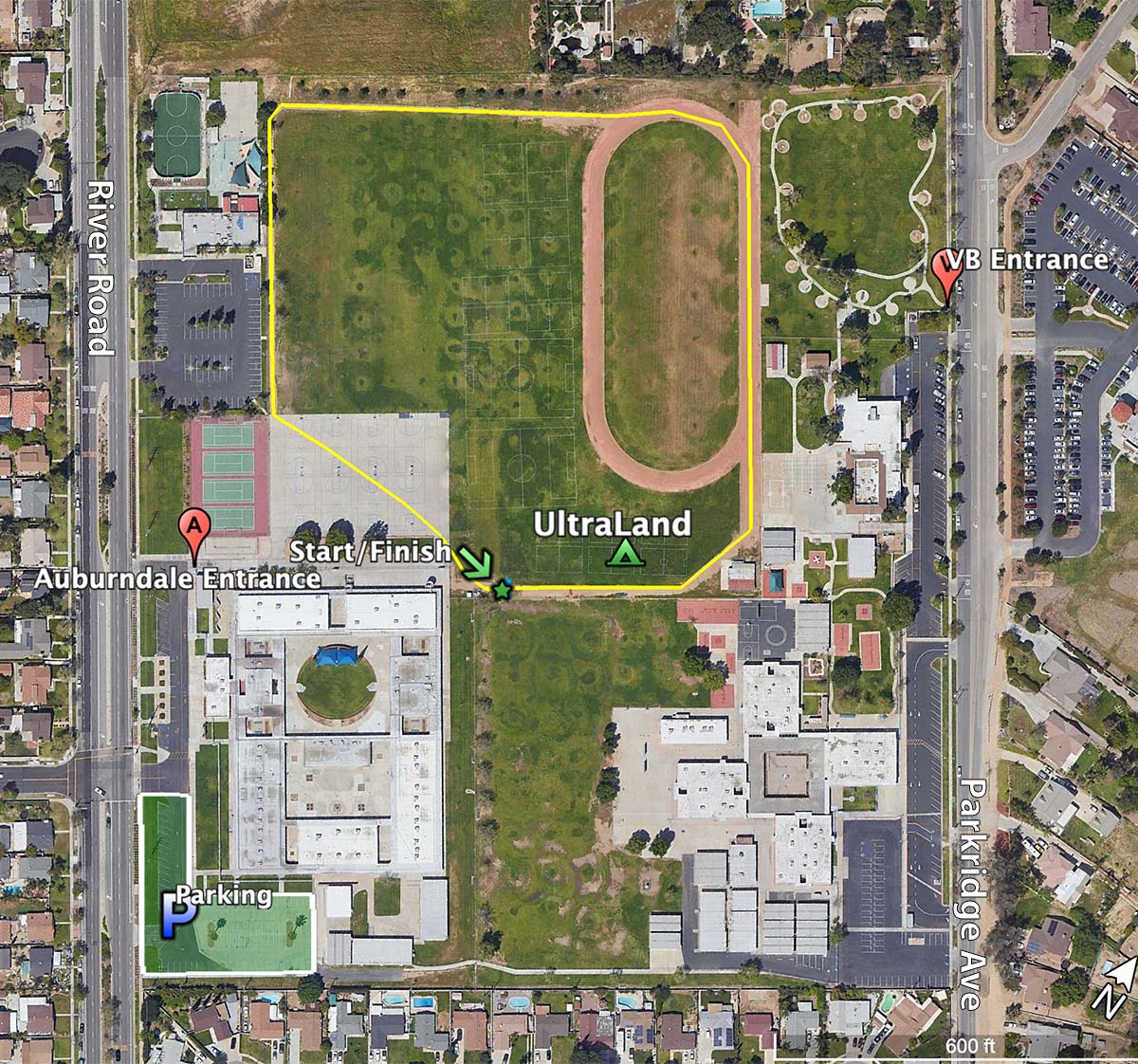 ADDRESS OF OUR EVENT: Auburndale Middle School 1255 River Rd Corona, CA 92880
Where to park on FRIDAY 3/24. SATURDAY 3/25 & where NOT to park:
See the maps: park on the south side of the school campus in the parking lot.
DROP OFF. You can slowly and carefully drive up the west side of the campus on Friday 3/24 during packet pick-up hours (5p-6:30p) to unload your gear alongside the race track in "ultraland". This is where you can set up camp.
IF you leave your car or RV on the interior of the race track when the race begins… YOUR VEHICLE CANNOT leave (cross the race track) until approximately 2pm on Saturday 3/25. You are committed! We suggest using the south parking lot immediately after drop off and check in, prior to the race beginning and not parking in "ultraland", unless you are 100% okay with your vehicle staying put until 2pm on Saturday 3/25.
IF you're parking a vehicle over night in "ultraland" (see map) you must be perpendicular to the track, not parallel as we do not want your vehicle taking up too much space along the course. AND stay clear of the Start/Finish line. We will help direct you as you come in to park… ask us for help. DO NOT cross the race course without a RUN4KIDS volunteer directing your vehicle.
ON SATURDAY, runners who did not check-in Friday night… you can arrive at 5:30am to set up and check-in. You will be allowed to drive across the race course BUT ONLY with the guidence of a RUN4KIDS volunteer and ONLY if you are able to leave your vehicle inside the race course until 2pm (Saturday). There will be NO vehicles crossing the race course from 6:50am to 2pm on Saturday.
Some race distances will begin at 7am. The 5k will begin at 8am. We cannot drive vehicles over the course/route after 7am.
Parking after 7am will be in the residential areas west/south of the school, alongside River Rd if legally available, and in the parking lots at Auburndale's campus where available.
WHEN
Friday
5:00pm – 6:30pm Friday Runner Check-in & packet pick up
6:00pm Pre-race meeting and announcements in the multi-purpose room.
6:45pm National Anthem by ERHS Choir
7:00pm RACE STARTS, for those entered in 48hr events and for those who selected Friday 7pm start times.
Saturday
5:30am-6:45am Runner Check-in & packet pick up (if you missed Fridays check-in)
5:30am – 7:30am 5K RUNNERS bib pick up and check in
6:45am Gather by start line
7:00am RACE START for those who selected Sat 7am start times
8:00am 5k RACE STARTS
10:00am FREE Run4Kids event! click here for details regarding the FREE event on Saturday.
Sunday
7:00pm RUN4KIDS 2023 is over!
AWARDS & MEDALS will be celebrated as each event is completed. You do NOT have to wait until Sunday night for your medals, awards, and buckles for some.
WHY
If you don't know why you're doing this event please check out some of 100 Mile Club's amazing posts on Instagram below, as well as some great Run4Kids inspiration here.
View this post on Instagram
View this profile on Instagram