100 Mile Club is the elite school-based program leading the effort in the prevention of childhood inactivity and obesity across the nation. Since 1993, we have been changing the lives of kids, school districts, families and communities with our evidence-based program to motivate kids to run or walk 100 miles during the school year.
Simple. Cost-Effective. Award-Winning.
A Cost-Effective Addition to PE, SEL, and After-School Programs
The 100 Mile Club program is easy to implement, highly flexible and feasible at any district scale and budget. We offer four program packages: Ultra-Elite, Elite, Pacesetter and Start Line. Each package includes fun incentives to keep kids motivated and moving at a cost ranging from affordable to free.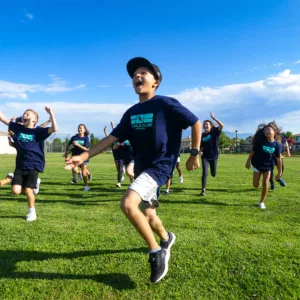 100 Mile Club has benefited students of all athletic levels to foster better behavior, academics, and athletic goals. All inclusive means providing an environment for every student to participate at their level.

-Stephen White, PE Teacher @ Vail Ranch Middle School
We want your 100 Mile Club program to be wildly successful. With every program package, you will also have free access to a library of resources and one-on-one consultation with 100 Mile Club experts. Our free resources include:
Customized Registration Forms
Printable Mile Trackers, Certificates & Awards
Standards-Based Games, Warm-Ups & Cool-Downs
Comprehensive Program Guide
Year-Round Support from our National Office
…and so much more!