Shark Attack 5k Run/Kids 1 Mile Fun Run
November 5 @ 7:30 am

-

11:00 am

PST
The Santiago High School Cross Country team is glad to present the 3rd Annual Shark Attack 5k Run and Kids 1 Mile Fun Run.
Course Description
Experience the picturesque landscapes of the Green River Golf Course at the Shark Attack 5k!
The excitement builds as you start off downhill along the pristine fairways, embracing the refreshing breeze. This net downhill course features gentle rolling hills, ideal for pushing your limits and setting new personal records. The course offers a mixture of both paved roads and dirt trails.
Cross the finish line into the large celebration area greeted by fans and fellow participants enjoying a lively post-race atmosphere with a DJ, snacks, and vendor booths. Join us for a race that merges the thrill of a 5k run with the camaraderie of community support.
Race Day
👚👕 A Dri- FIT shirt will be guaranteed if registration is received by October 1, 2023.
🏅All Finishers Will Receive Medals
💗 Fun Community Event
🎉 Abundant High-fives and cheering as Santiago's Cross Country Superstars cheer you on along the course.
👟 Kids may earn 100 Mile Club Credit
The Shark Attack 5K proceeds are collected by the official Santiago Sharks booster organization.
See flyer for prices.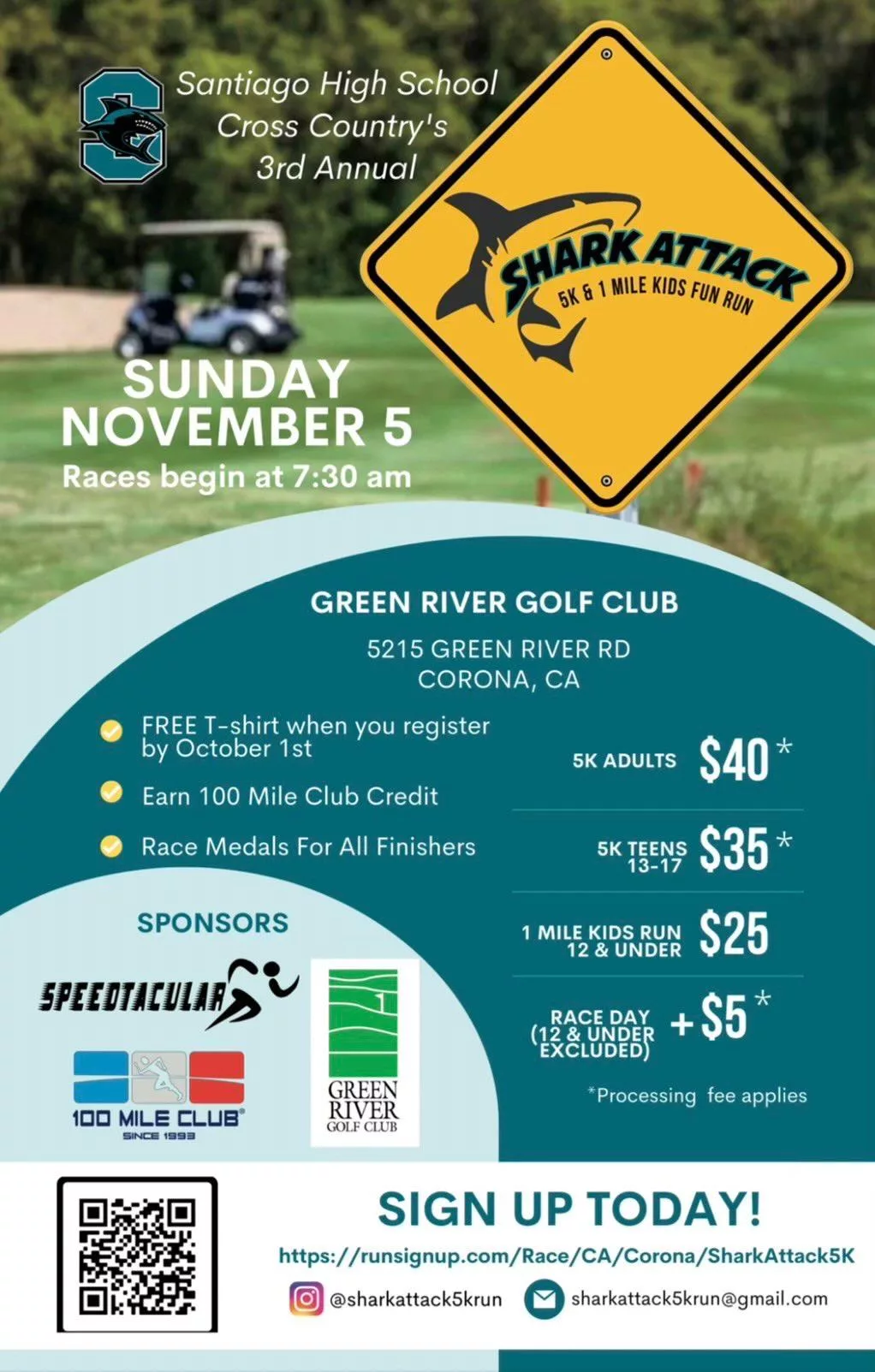 Race Contact Info
If you have any questions about this race, please contact the race director at
[email protected]
Related Events
Welcome to our calendar of Meet-ups and Community Events!
All calendar items are independent local meet-ups hosted by outside volunteers, or are organized events ran and managed by other organizations. All are open to 100 Mile Club participants and families. Please check periodically for time/date changes and cancellations, or contact the volunteer listed as "organizer" for any questions.
Want to host a meet-up or community event? Click Here
Counting Miles at Events and Meet-ups
While miles from listed meet ups may be counted toward a participant's 100 Mile Club goal, it is ultimately the decision of each school to honor miles earned from this calendar at their site. Check with your school 100 Mile Club coach or teacher to verify whether they will accept miles earned at a specific outside event.
At most events, a credit slip or medal will be given to take back to a child's school for mile-credit. Credit slips will be issued only for time listed for each event.
Weather Permitting
All events scheduled are as weather permits. Events may be cancelled up until the time of the event. Every effort will be made to advertise any cancellations or changes, including updates on the website and on social media. It is ultimately up to the attendee to verify if an event is scheduled. Credit slips will not be issued for cancelled events.