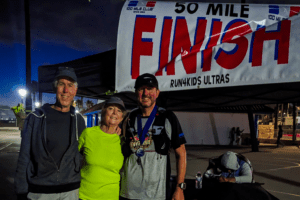 Ryan Kerr (Under Patrick's Wings Founder and Ultrarunner) from Corona, California, participated in our Saddle2Surf 50 Mile Solo race and raised funds to support 100 Mile Club programs nationwide. We're THANKFUL to have him as a 100 Mile Club Ultra Champion! We asked Ryan to share his running journey during this season of gratitude. Ryan shares:
"I signed up for my first race over 15 years ago, the 2008 LA Marathon. I had no idea what I was getting into, but I was up for the challenge. I called my mom and asked if she wanted to train and run this race with me. She agreed, and we toed the starting line on March 2, 2008. After several hours, we crossed the finish line, and I was hooked for life.
After a few years of running half and full marathons, I dove headfirst into the world of ultramarathons. My first was the American River 50 Mile in 2014. I would run other ultras such as Javelina 100k, Chino Hills 50k, and the Nanny Goat 24-hour run.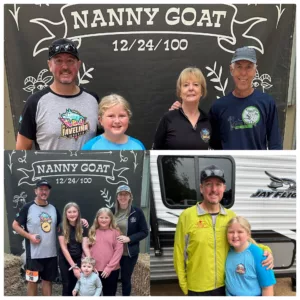 On February 3, 2019, my world came crashing down. Our son Patrick passed away unexpectedly due to a complication of hypertrophic cardiomyopathy. We were devastated. The following year was challenging for our family. Later that year, we started a non-profit in memory of him, Under Patrick's Wings. We provide support and resources to families grieving from child loss. To spread awareness of our newly formed non-profit, we headed to Arizona to run the Across the Years 48-hour run. My goal was to complete 100 miles in memory of Patrick. I was not in the best shape then, but I wanted to accomplish this goal I've had for a few years. After about 46 hours, I finished 100 miles on a 1-mile loop!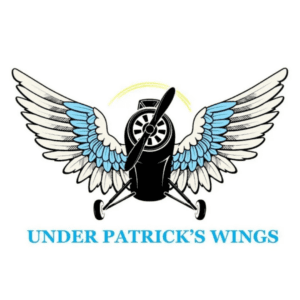 Our lives got very busy between school and work the next few years, and I wasn't running much anymore. Then COVID hit, and the whole family was home for school and work. There were no races to sign up, so the motivation to run was gone. It wouldn't be until May 2022 when I decided to get back into shape and start running again. It began with minor changes to my diet and exercise routine. After a few months, I started logging more miles and losing the extra weight I gained over the past couple of years.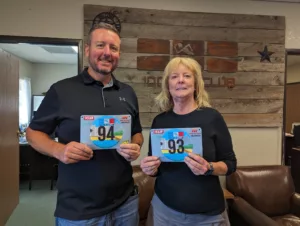 Almost 18 months later, I've lost 115 lbs. and run every single day. I've been averaging 50 miles per week and have completed a couple of ultramarathons this year, most recently the Saddle2Surf 50 Mile for the 100 Mile Club. I heard about the 100 Mile Club not too long ago and wanted to learn more about their program, so I signed up for Saddle2Surf. I met everyone at their office in Norco before the race and learned more about how to implement their program at my kids' school next year. Teaching our kids about living an active and healthy lifestyle is very important, and that's what the 100 Mile Club is all about!"
❤️ Thank you, Ryan, for being a 100 Mile Club Ultra Champion! ❤️