Important September items:
Incentive Package Orders are now open

!   We can't wait to see students earning their shirts and more! 

Available – all orders of 30 to 99 incentive packages receive a 5% discount, and orders of 100+ receive a 10% discount! Ask your program specialist for more details.

2023-2024 Enrollment Forms

are now available as downloadables

in our COACHES ONLY section (Web Store login required).

Forms are available in English and Spanish for Elite Packages, Ultra-Elite Packages, and a Combination (offering a choice between the two). Cover letters in English and Spanish are also available.

NEW FUNDING SOURCES in California!

We are thrilled to see multiple school districts implementing 100 Mile Club district-wide this year through new funding sources, including ELO-P, for extended learning programs at elementary schools in California. Contact us for more information or contact your district to see if funding support is available. 

The new

Kick-Off Assembly template

is now available in the COACHES ONLY section; a login is required from your program specialist. This step-by-step guide gives ideas and a layout for organizing a fun way to kick off your 100 Mile Club program for the year.

The outline includes our

Color Reveal 2023-24 Video

, highlighting the NEW color for this school year, along with some other fun peaks at what's ahead. Be sure to take a look!

Bad weather days, no problem!

Don't stop earning miles. Join

Ready, Set, Gold!

for monthly workout videos (approved inclement weather miles) and essential social and emotional learning topics especially designed for grades 5-12.
Top FAQs: 
I'm moving to a new school within my district or a new one in a different district. How do I keep running 100 Mile Club?

It's exciting when teachers and coaches who've moved schools continue 100 Mile Club at their new site! We are here to help you transition.

Please contact us by phone at (951)340- 2290 or email at i[email protected], and a Program Specialist will contact you. 

If you have a new coach ready to take over running your program,

please use this form to update your information

. 

NOTE

: You can also update account information yourself in our

store

. This gives you immediate access to your updated account.

How do we track miles?

For every school in our program, mile tracking is slightly different. Some methods range from very low-tech to the highest high-tech. It is important to pick the method that works best for you. Check out our Program Guide, Chapter #5, for more ideas, or contact your program specialist for ideas. 

How to order incentive packages for school?

You can order your incentives online through our web store!

Log in

with the same 'Head Coach' email address you used to register your school, and you will see a special 'Coaches Only' section of the store. All your incentives will be available to purchase or download program materials at no cost.

How many times do coaches place orders throughout the year?

Coaches can place as many orders throughout the year as necessary.

We encourage you to place your order in time to immediately reward your students with their 25 Mile Signature T-shirt when their goal is reached. Many schools open registration to their students monthly, placing orders as needed.

Shipping and Handling charges apply.

Plan ahead and receive bulk ordering discounts when possible!

Ordering is available year-round. There are no cutoff dates, but the

100 Mile Club color cycle begins July 1 and ends June 30 of each year

, after which the color for that year is no longer available.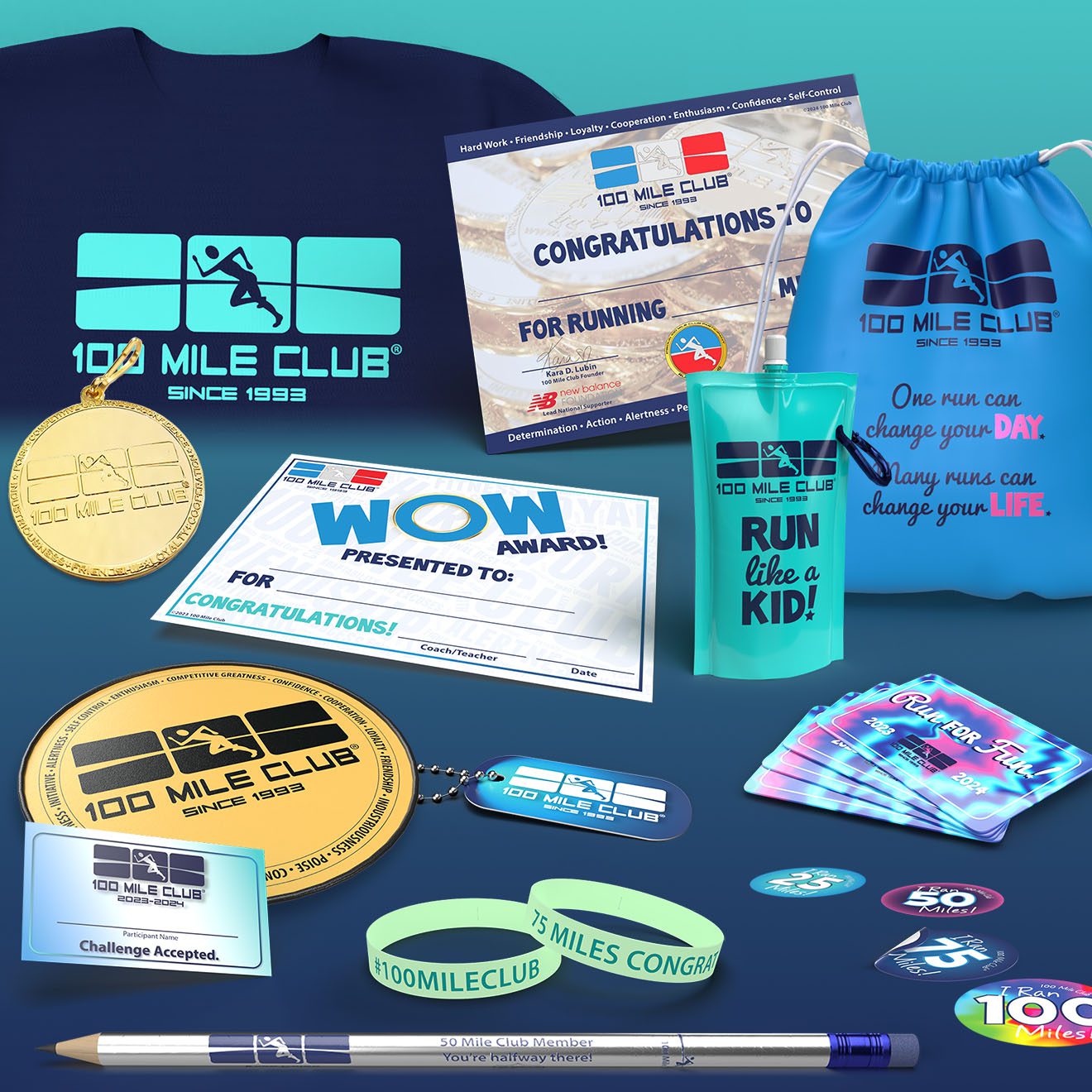 Stay Connected with the 100 Mile Club on Facebook! Join us on Facebook, hear from others, share your thoughts, and ask questions. This is done in several ways: (1) 100 Mile Club Facebook Page – hosted by the 100 Mile Club national office and open to all; (2) 100 Mile Club Coaches & Staff – a private FB group hosted by the 100 Mile Club national office, just for our coaches at registered schools; and (3) special groups (Club262, Run4Kids, etc.).