Our option for anyone who wants to get running or walking now!
For those not associated with a school, the 100 Mile Club TO GO! option is perfect for you! Each participant is presented with a straightforward challenge of running, walking, or hiking 100 miles during the year. We've designed this version for individuals and families not able to register through a school. 
Here are the simple steps TO GO!:
Choose your incentive package, either Ultra-Elite or Elite.
Register at the link below.
Start moving immediately and track your miles!
Once registered, you will receive mile-tracking downloads, monthly sMILES newsletters, and your incentives will be quickly shipped to you. Don't forget to take photos and follow us on social media!
The 100 Mile Club is available to answer any questions you may have. Email us or call us (951.340.2290) Monday through Friday (9 am to 4 pm Pacific).
The 100 Mile Club To Go! offers parents two fun packages to get your kids moving:
Ultra-Elite - $20 per year
Just like ultra-elite athletes deliver maximum performance, this package delivers the maximum incentives that 100 Mile Club has ever offered.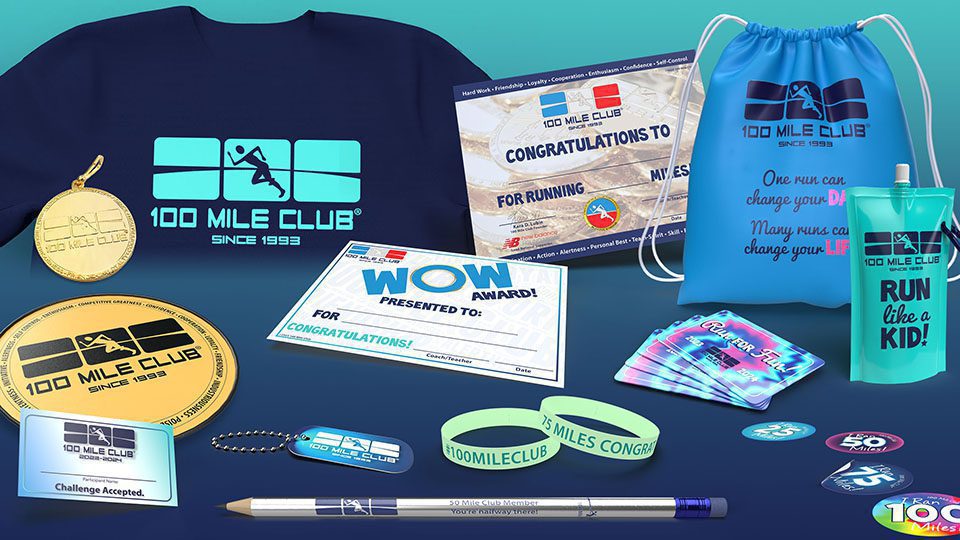 Key incentives include:
• 100 Mile GOLD MEDAL
• 75 Mile Wristband
• 50 Mile Pencil
• 25 Mile T-Shirt
• Dog Tag Keychain
• 100 Mile Club Frisbee
• AND SO MUCH MORE!!!!
Elite - $15 per year
The ELITE package is our long-running, most-popular program package. This package includes the coveted "always earned, never given" GOLD MEDAL in addition to these motivating incentives: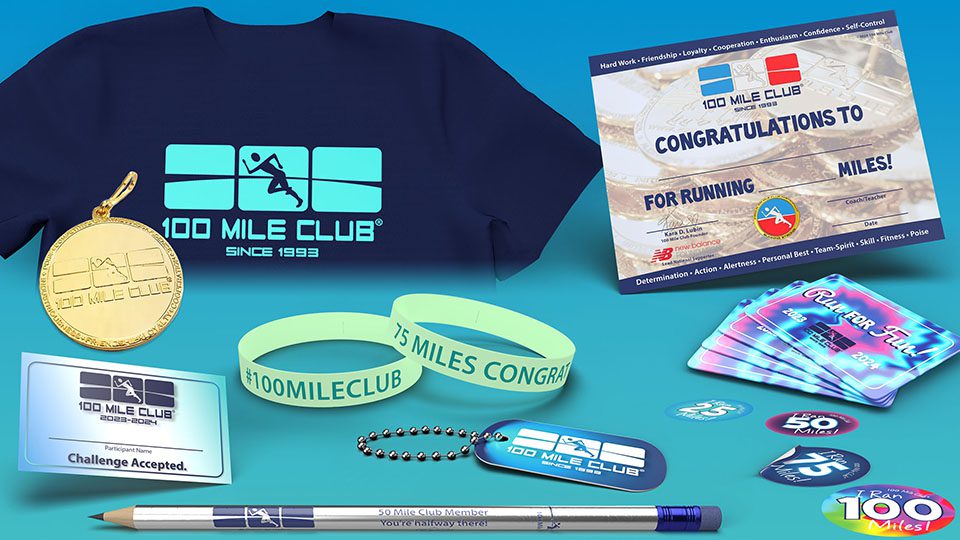 • 100 Mile GOLD MEDAL
• 75 Mile Wristband
• 50 Mile Pencil
• 25 Mile T-Shirt
• AND MORE!!!!
*Please Note: For all incentive packages, gold medal will not be shipped until the end of the school year, only for those participants reaching 100 miles or more. Separate shipping charge for gold medal will apply. Free pickup option at national office (Norco, CA) also available by appointment only.
Community Connections
One of the biggest strengths of the 100 Mile Club program is the sense of community that is developed as we push each other to achieve our goals. With 100 Mile Club To Go!, we strive to maintain that connection between kids, families and communities no matter how far apart. Our social media platforms are an important part of this goal, and are a great place to ask questions, get motivated, and celebrate your success with thousands of others across the country! In addition, we offer plenty of free tools to help stay motivated, such as mile tracking sheets, printable celebration certificates, and more. And as always, our National Office is here and ready to answer questions and help you make your year a success!