CANCELED-Walk to the Rock: Pumpkin Rock 2023!
October 30 @ 4:00 pm

-

6:00 pm

PDT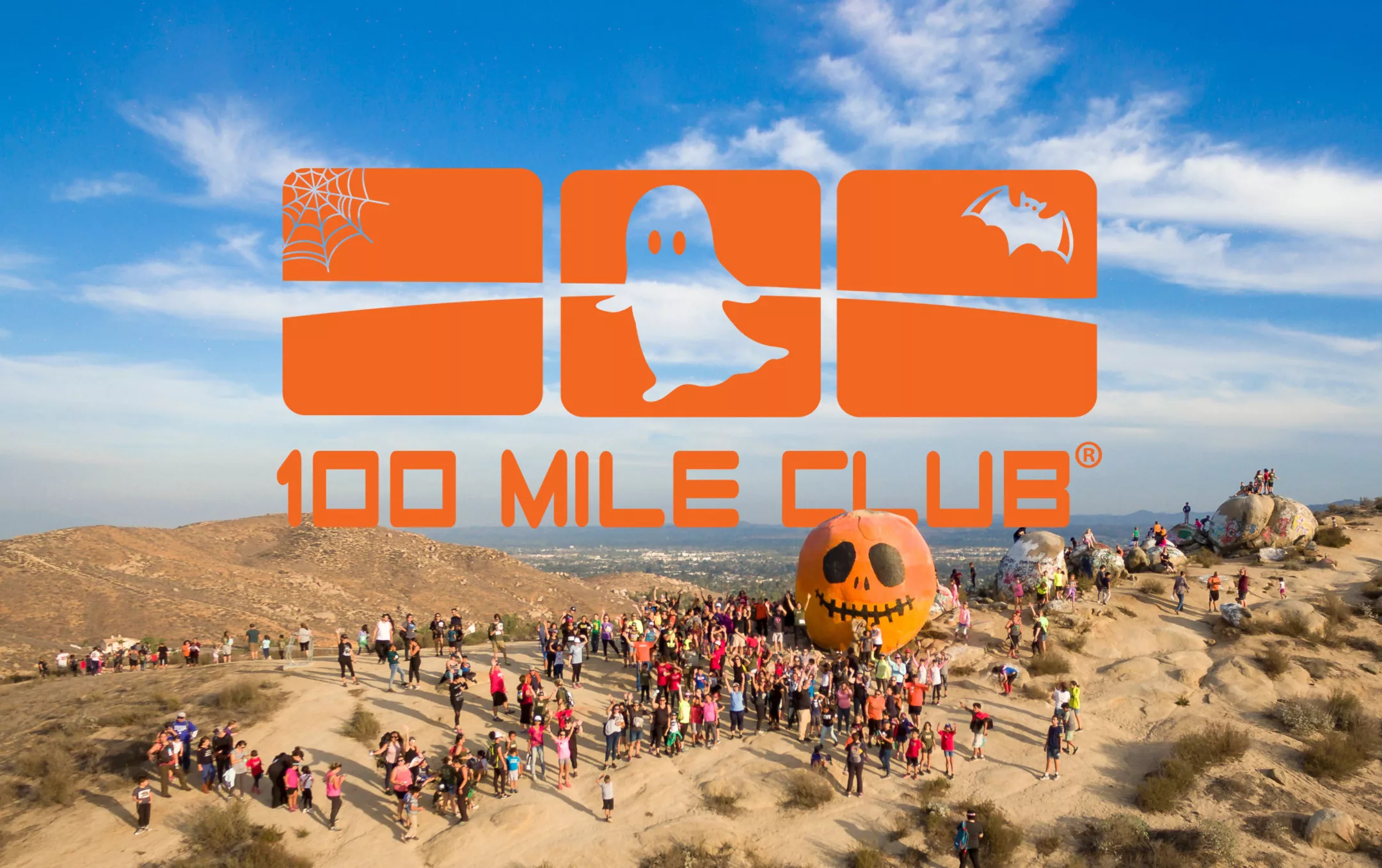 𝐖𝐞 𝐫𝐞𝐠𝐫𝐞𝐭 𝐭𝐨 𝐢𝐧𝐟𝐨𝐫𝐦 𝐲𝐨𝐮 𝐭𝐡𝐚𝐭 𝐰𝐞 𝐡𝐚𝐯𝐞 𝐦𝐚𝐝𝐞 𝐭𝐡𝐞 𝐝𝐞𝐜𝐢𝐬𝐢𝐨𝐧 𝐭𝐨 𝐂𝐀𝐍𝐂𝐄𝐋 𝐏𝐔𝐌𝐏𝐊𝐈𝐍 𝐑𝐎𝐂𝐊 𝐝𝐮𝐞 𝐭𝐨 𝐰𝐞𝐚𝐭𝐡𝐞𝐫 𝐜𝐨𝐧𝐝𝐢𝐭𝐢𝐨𝐧𝐬 𝐚𝐧𝐝 𝐭𝐡𝐞 𝐡𝐢𝐠𝐡 𝐰𝐢𝐧𝐝 𝐰𝐚𝐫𝐧𝐢𝐧𝐠 𝐢𝐬𝐬𝐮𝐞𝐝 𝐭𝐡𝐫𝐨𝐮𝐠𝐡 𝐌𝐨𝐧𝐝𝐚𝐲 𝐞𝐯𝐞𝐧𝐢𝐧𝐠.
Put on your Halloween costume or 100 Mile Club® swag and join us for a hike up to Norco's famous Pumpkin Rock!
No tickets are necessary, BUT please RSVP here for up-to-date information. We will not be emailing/posting anywhere else.
On Monday, October 30th, meet us at 4:00 pm SHARP at Pikes Peak Park for a walk/hike up to Pumpkin Rock! At 4:00, we will get started with a short kick-off!
 -You must have a parent or guardian with you on this hike. NO EXCEPTIONS.
-No masks, toy weapons, or creepy/gory costumes.
-NO STROLLERS. Please trust us on this one.
-The walk-up is .93 miles up and steep in parts, so wear good grippy shoes. No flip-flops.
-Horses get the right of way, so be mindful while you hike.
–THE HIKE WILL DEPART AT 4:15 SHARP. The goal is to be up and down WAY before sunset (6:00 PM).
-When you come back down, you owe one lap at Pikes Peak to cross 2 miles. We will pass out Pumpkin Rock CREDIT SLIPS at the bottom AFTER the hike.
-We will still have a regular Pikes Peak Park Open Run from 5:30-6:30 for those who don't want to go up to the Pumpkin (or just want extra miles!), so when you get back, you can do more miles for a Pikes Peak credit slip, too.
-For questions, call the 100MC Office at 951-340-2290.
Welcome to our calendar of Meet-ups and Community Events!
All calendar items are independent local meet-ups hosted by outside volunteers, or are organized events ran and managed by other organizations. All are open to 100 Mile Club participants and families. Please check periodically for time/date changes and cancellations, or contact the volunteer listed as "organizer" for any questions.
Want to host a meet-up or community event? Click Here
Counting Miles at Events and Meet-ups
While miles from listed meet ups may be counted toward a participant's 100 Mile Club goal, it is ultimately the decision of each school to honor miles earned from this calendar at their site. Check with your school 100 Mile Club coach or teacher to verify whether they will accept miles earned at a specific outside event.
At most events, a credit slip or medal will be given to take back to a child's school for mile-credit. Credit slips will be issued only for time listed for each event.
Weather Permitting
All events scheduled are as weather permits. Events may be cancelled up until the time of the event. Every effort will be made to advertise any cancellations or changes, including updates on the website and on social media. It is ultimately up to the attendee to verify if an event is scheduled. Credit slips will not be issued for cancelled events.