Making miles (and smiles) Meaningful for Everyone
For MOST kids, 100 miles works perfectly: Three miles a week…not too easy, not too hard. For some; however, there needs to be some adjustment and that's ok. Sometimes, the balance between challenging and attainable must be adjusted to help certain participants achieve TRUE personal success. For this reason, we have developed guidelines for adapting and modifying 100 Mile Club to meet the needs of ALL participants. From the tiniest preschool feet, to individuals with disabilities, we have ways of creating a love of movement that will last a lifetime.
There are as many modifications as there are disabilities, and every single individual is different.
Whenever possible, involve your runner in adapting and modifying miles…make the decision together. Use your best judgment or talk to your adapted physical education teacher or case carrier about appropriate challenges for your student/s with physical and/or intellectual disabilities.
For most, again, walking a mile is fine, but if you need to, simply figure out what your student can do to equal 3 miles each week. That activity can be their "mile." The modification could be as simple as equating a shorter distance (say 1 lap vs. 4 laps) as the mile for a particular runner.
Refer to IEP goals for guidance and inspiration. 100 Mile Club goals, just like IEP goals, can be modified and adapted throughout the year. If the designated "mile" becomes too easy tweak the goal to create an appropriate challenge.
We have had students with specific physical disabilities swim, walking a specified distance or number of steps using their walker, independently pushing in their wheelchair, and even physically rolling across a mat as miles. Nothing is off limits, as long as you allow all individuals to do their personal best at whatever activities are appropriate for them.
What's MY Mile?
If you have a student with a physical disability preventing them from realistically running or walking an actual mile, this is for you.
Use this "race bib" to identify a specific goal or "mile" for your participant.
Relate this "mile" to a personal, therapeutic, or IEP goal and evaluate/celebrate/review/revise this often with your runner and/or team. Always include the participant whenever possible when determining a modified mile.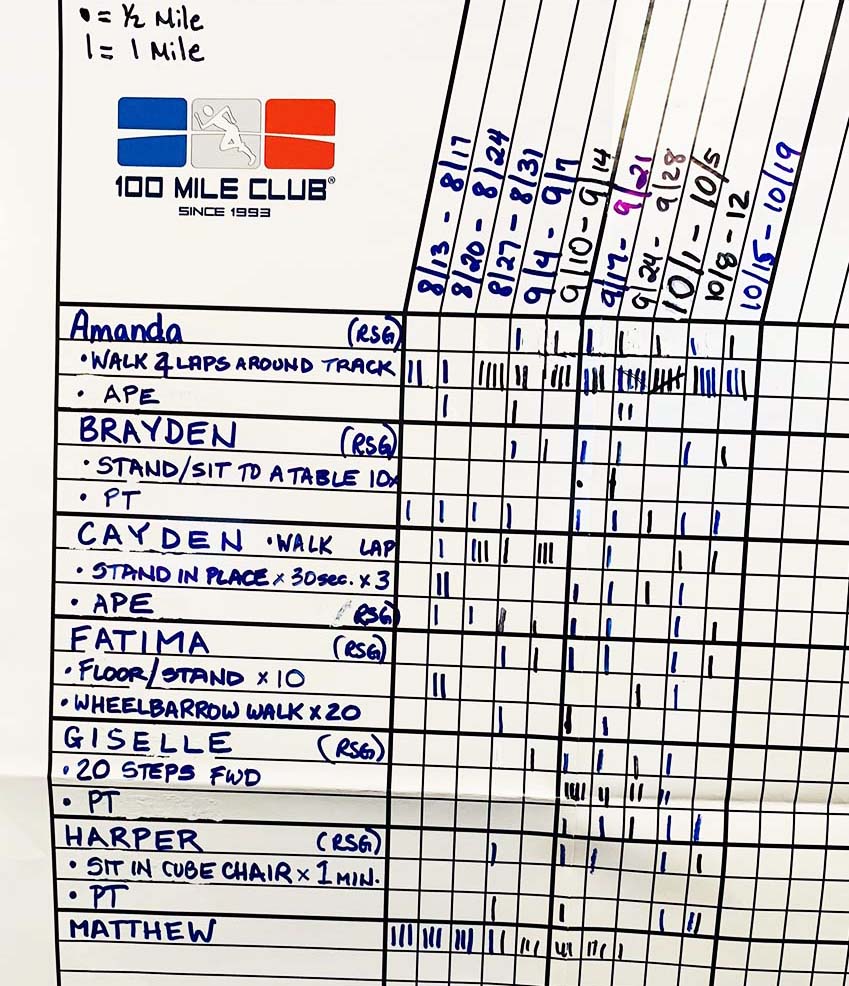 This chart illustrates some sample "mile" goals for students in a self-contained class. As you can see, they are all very different, yet their miles/half-miles are recorded similarly. If "miles" are related to IEP goals, which in this case they are, this chart also helps therapists and teachers document and view progress on goals as well as celebrating miles achieved.
Some examples have been (but are in NO WAY limited to):
Walk ___ laps around track unassisted.
Using adaptive equipment (gait trainer/standing wheelchair, …), walk ___ laps on designated track, take ___ steps forward.
Wheelbarrow walk 10 steps.
Stand unassisted in place for ____ seconds.
Self-feeding, pouring into a receptacle, grasping and moving objects
The possibilities are literally endless!
* IMPORTANT: Ask the participant to help decide whether or not to modify the mile. Sometimes a runner will not want their mile modified at all. Rather, they will want to walk legitimate miles, achieving their own personal goal. Call us if you have any questions about using this form to modify 100 Mile Club® for your runners.
What's MY Goal?
Use this as a bulletin board item or for all runners to set both long and short term goals. These may also be used as a "What's my Mile" form to ensure visual equity on a classroom bulletin board.
Use these versatile bibs to set weekly, monthly, or even yearly goals. You can even use them for a special event!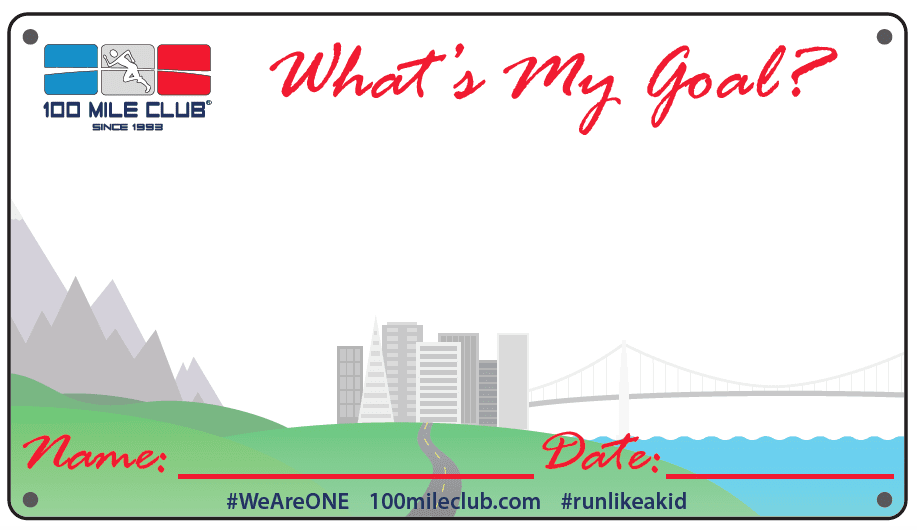 If you have questions about adapting or modifying miles or need assistance in any way, please feel free to reach out to us at

[email protected]

or call 951-340-2290.