Jurupa Unified School District contains 25 schools and 18,768 students. It is located in the upper western corner of Riverside County, California. This fantastic school district believes in empowering its students with the tools to succeed, and we are proud to be part of its educational strategies and culture. The implementation of our program district-wide has connected their students and schools, improving their social-emotional well-being and academic performance through daily physical activity. We are creating healthy, happy, connected kids and communities and changing lives one MILE and one sMILE at a time – TOGETHER!
Community Engagement.
In addition to 100 Mile Club sessions at individual schools, many extra out-of-school opportunities were provided to students and their families to increase community engagement.
Opportunities included:
Kick-off events 

Open Runs at Rubidoux High School and Jurupa Valley High School. Other 100 Mile Club events brought the Jurupa Valley community together in a show of true compassion, generosity, and support.

Walk With a Doc 

Ribbon cutting for a new track field.
 HIGHLIGHTS FROM A FEW JUSD SCHOOLS
Sky Country ES: Running STRONG since 2007!
"We love the 100 Mile Club at Sky Country Elementary! We began the program in a similar way to the history of the organization. In 2007, it was implemented in one fifth-grade classroom. In 2008, it was implemented in one grade level (5th grade). By 2009, it was a school-wide program at Sky and has been going strong ever since.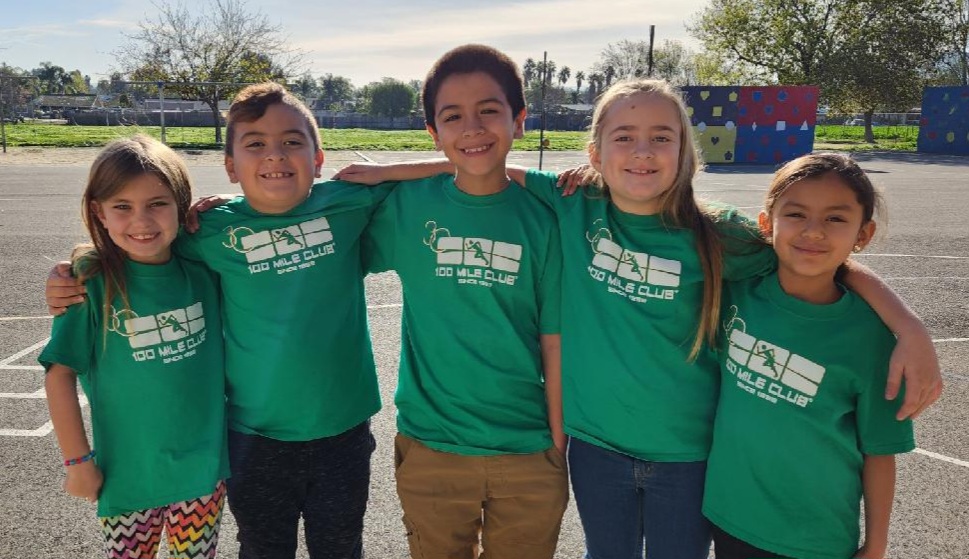 All students at Sky Country are able to participate in the 100 Mile Club. Thanks to the support of our classified staff, students are able to earn miles before school, at recess, and at lunch every single day.  Our teachers give students the opportunity to earn miles during their PE block. As a school, we promote Wear it Wednesdays and encourage students and staff to show off their 100 Mile Club gear from this year or previous years.  
We also have monthly themed runs where the entire school joins together on the track to earn miles.  Students and staff dress with the theme of the run or wear their 100 Mile Club shirt while music is played to create a joyous atmosphere. Sky Country also participates in outside events such as National Walk to School Day and Walk With a Doc.  Our administration also supports the 100 Mile Club by handing out incentives earned at our monthly awards assemblies.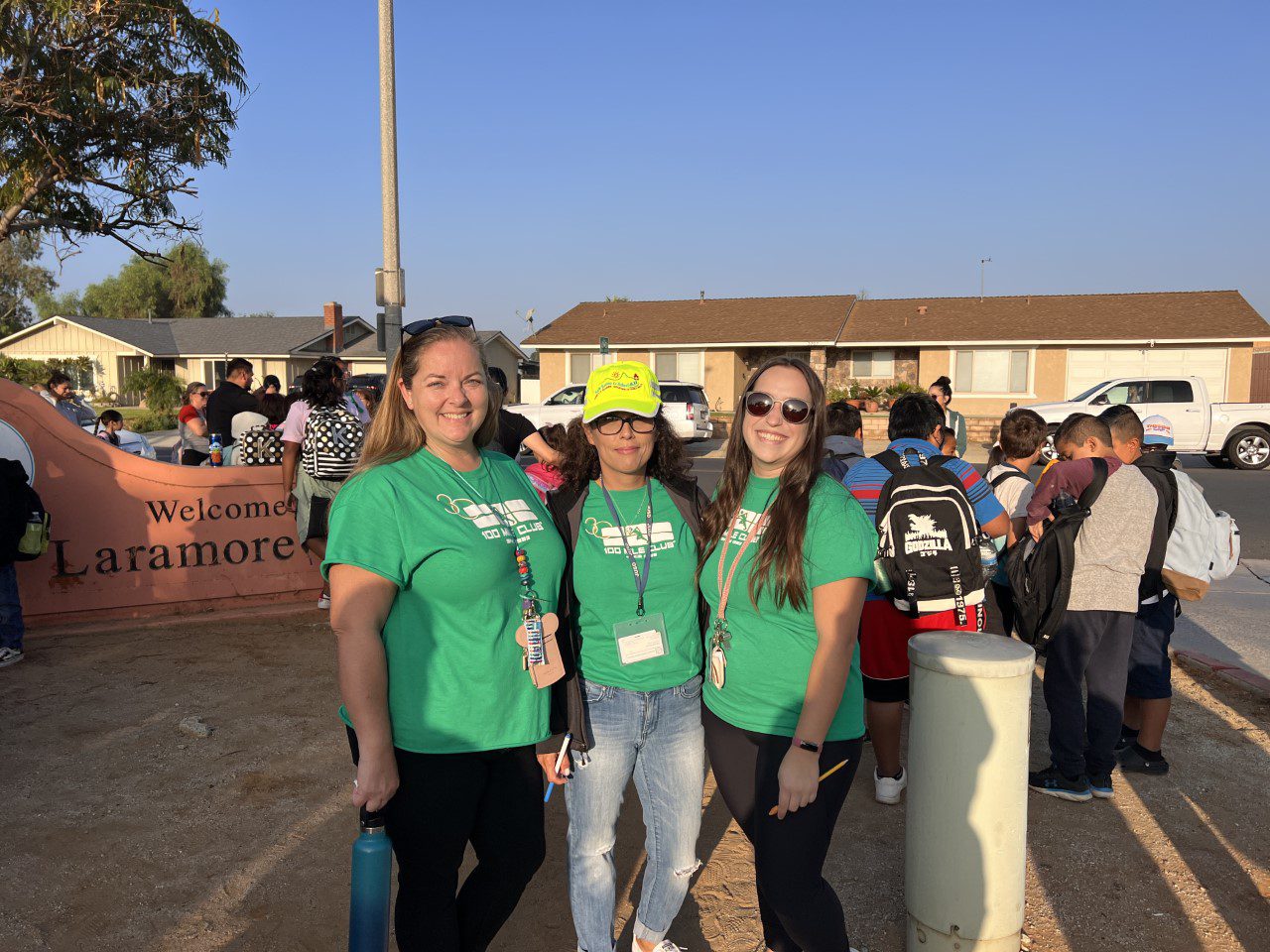 As a school, we use Track the Miles to calculate students' progress and to print out weekly reports. These reports show the miles run by students in each grade level and are posted in the cafeteria on the 100 Mile Club school bulletin board. The upper-grade classes have monthly competitions to see which class in each grade level ran the most miles for a given month.  Each winning class gets to host the trophy in their classroom for the following month. The 100 Mile Club spread beyond Sky Country Elementary to all of the other JUSD schools.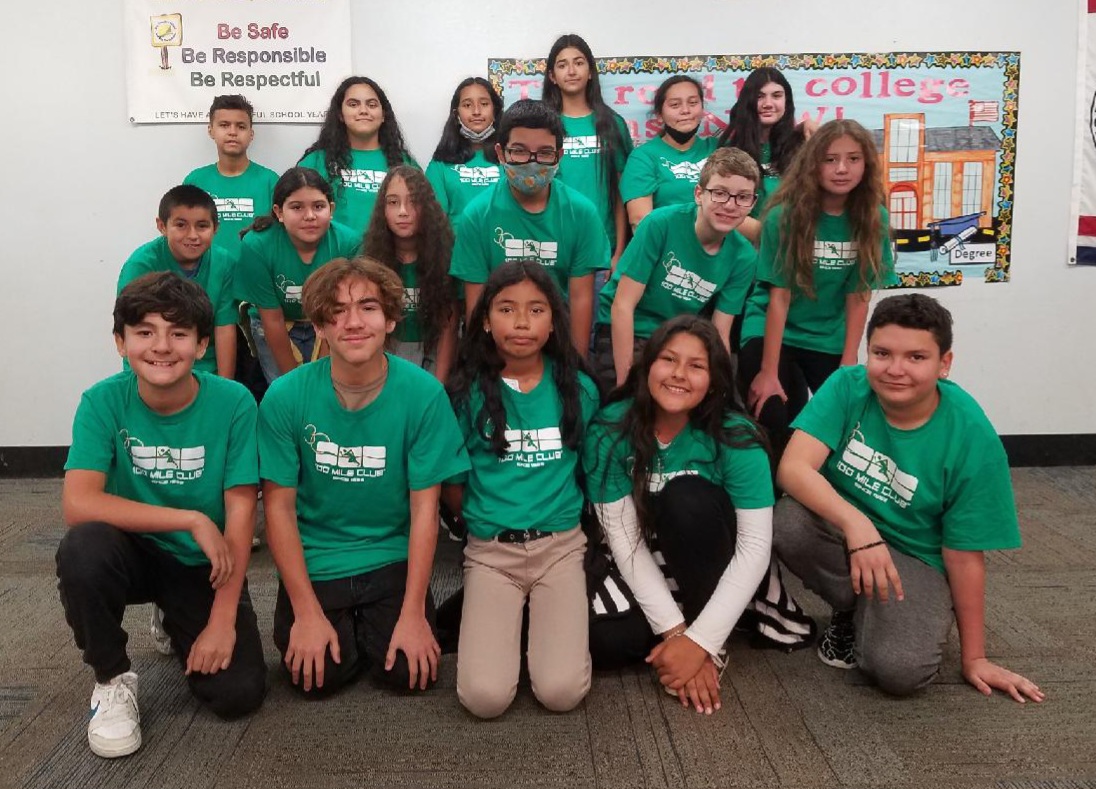 Our district showed their support of the program by cutting out dirt tracks on all of the elementary school campuses so students would have a safe, designated place to run.  Our district also offers families the opportunity to exercise together by opening up the high school tracks four days a week for an hour and a half.  The 100 Mile Club has grown into an integral part of the JUSD culture." – Jamey Bettencourt Sky Country Elementary
Jurupa Unified School District Schools: Crushing Goals and Raising the Bar.