"Every journey begins with one step," Maya Angelou.
"St. Jude Catholic School in Indianapolis, Indiana, has 500+ students and 40+ staff members.  I am Coach Tuttle, the school social worker. In 2012, I took up running (in my 30's) to improve my health and wanted to share that with others. So, I started a running club with five middle school girls in 2014-2015.  After three years, I stumbled upon information about the 100 Mile Club and requested permission to start a club for the entire school. The first step was to recruit our PE teacher, Coach Verhiley, and after she said yes, we approached the principal with the idea.  Thankfully he also said yes! 
In our first year, we used the no-cost option to see if we would have enough interest. Our principal gave us a $60 budget. In the planning stage, we had decided only to include 3rd-8th grades. When we brought the idea to our teachers, the primary teachers also asked to be included; they felt the kids would enjoy the club and benefit from the extra activity. In 2017-2018 we opened the application to the entire school. We were surprised to have over half of the school and staff join the team.  As a Christian school, we felt it fitting to hold an opening ceremony at Mass and include a "blessing of the shoes," followed by an inaugural lap around the gym.
Overly excited about the program, we made our own "mile-stones."  Coach Verhiley picked out the rocks from her landscaping, then my daughters and I painted and decorated every rock that went to a student or staff member.  I remember one night, painting gold rocks in my driveway at 10 pm to give out the next day! It was a tremendous year!  After painting hundreds of rocks, we decided that going with the gold-medal program would be much more time efficient.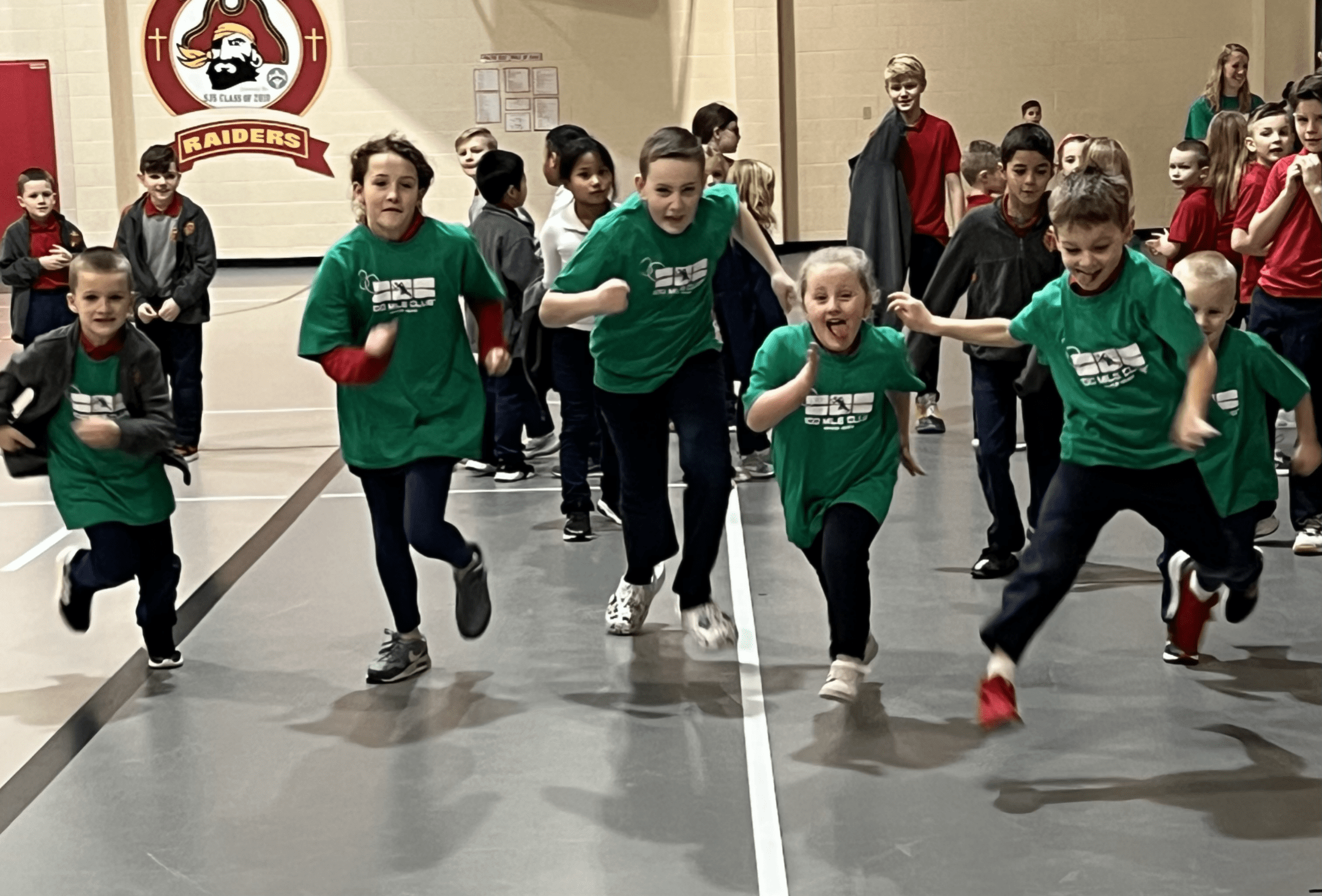 Through the years, our numbers have reduced to 125+/-. We have found students who genuinely want to work toward 100 miles. Covid-19 brought many challenges, but our students continue to work hard each year. The kids look forward to our Wednesday afternoon and Thursday morning meetings and appreciate the challenges we set up while school is on break.  We are so blessed to be part of the 100 Mile Club!"
-Coach Michelle Tuttle